lundi 8 avril 2013
Tutorial: Fimo hollow beads
par Florence

The trick which allowed me to realise this creation, was learnt during Chritine Dumont atelier, an artist I admire so much.
this is the tutorial: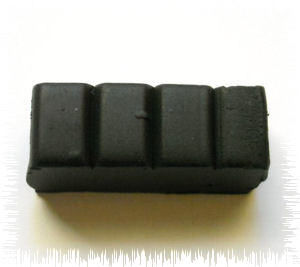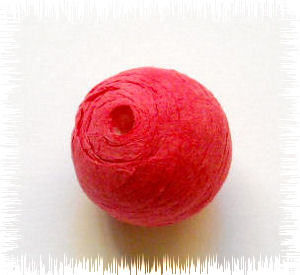 Take the polymer clay in whichever color and brand you prefer, and a paper ball (in French: cotillon, the one you throw with joy on the head of your friends during parties)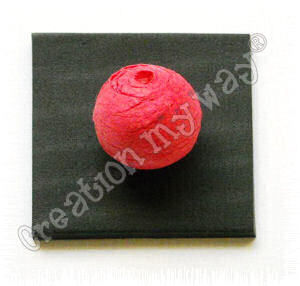 You cut a square of clay (passed at the largest set on the pasta machine). The square must be large enough to cover the paper ball. Refold the corners on the ball and cut the exceeding clay with a cutter. Then, mend the edges (with the fingers or a small roller) in order to cancel the connections traces.



this will result in a bead well rounded and smooth. You will put it in the oven and bake it, following the precise instructions of the chosen brand.




After that, put an end piece cylinder-shaped on your electric drill and pierce four big holes on the four poles of the ball. Make sure your end piece is well at a right angle on the bead and that you keep it steady during the making (this will avoid to see UFO flying during the process).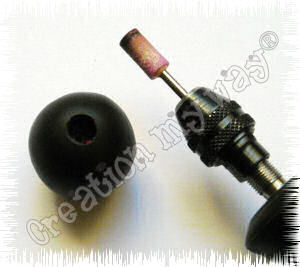 When you will have made four big holes on the bead, you take a finer end piece cylinder-shaped ancd you make some other smaller holes. But not too much, in order not to make the bead too fragile. (I know, it is not easy to slow down at this stage, but you will make it!). After that, you plunge your bead in the cold water and you let it simmer for about half an hour.
Using a crochet rod, similar to the one used for crustaceans, remove very carefully, little piece by little piece, the scraps of the cotillon.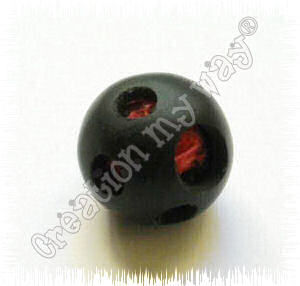 Une fois cette opération faite, changez votre embout de perceuse pour des forets de tailles différentes et lâchez-vous. Faite tous les trous que vous voulez pour que votre perle soit harmonieuse sans trop les rapprocher pour que la perle reste solide.
This operation done, you can change the end piece on your electric drill using the sizes you prefer and you start amusing yourself. You can do all the holes you like to, trying to harmonize your bead and not to have holes too close one to another, otherwise your bead will be too fragile.
And this is it!!!


Isn't it simple? This was also created by a designer I didn't know, and that I've just discovered:
Einat
-----------------------------------------------------------------------------------
The story goes on...

When two polymer friends take up a challenge, is is possible to resist?
Genviève, alias Jancydol, seeing my bead, challenged me to create a bead within the bead. And thanks to a little trick from another friend, Marie-Christine, alias MCBE Créations, I could rise to this irresistible challenge! LOL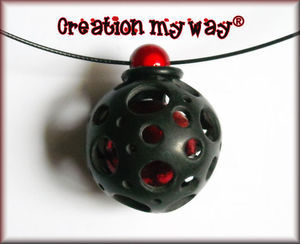 My trick consists in using some toilet paper or kitchen roll to make a bead. If you want to use it to lighten a polymer bead (not with holes), you can add some white glue mixed to water to the paper, and let it dry before you recover it.
If, like Florence, you want to take away the paper when the bead is baked, you do not have to mix glue or use a cotillon bead instead. After thinking about this trick, Florence and I had the same idea: to make a bead in a cage.
This is my way:
You will need:

-a bead or a ball (better if it is not pierced) around 1,5 cm or more little.
- 2 to 3 polymer clay bars (here Fimo), in colors which match the bead
- a clay gun (it will make the processus more rapid) with a rectangle end piece
- 3 to 4 sheets of toilet paper
- a little bowl of water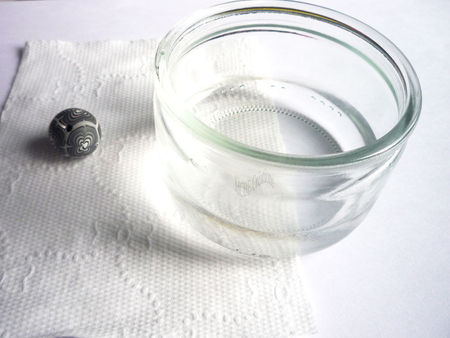 Tear the toilet paper in strips (1 cm large)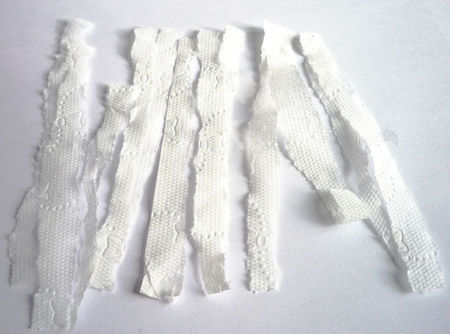 Start to enwrap the bead with the paper, moistening it with a finger (but not soaking the paper in the water)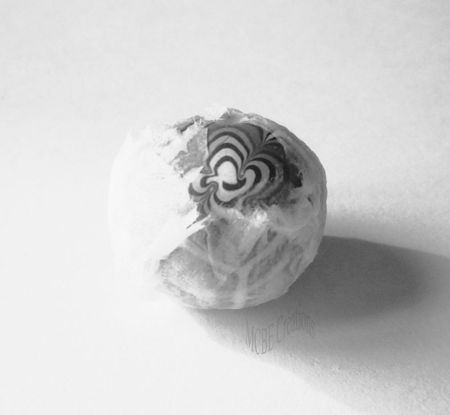 Roll the bead in your hands, in order to mix well the paper: you will obtain a good ball, which will leave 2-3 mm between the bead and the cage.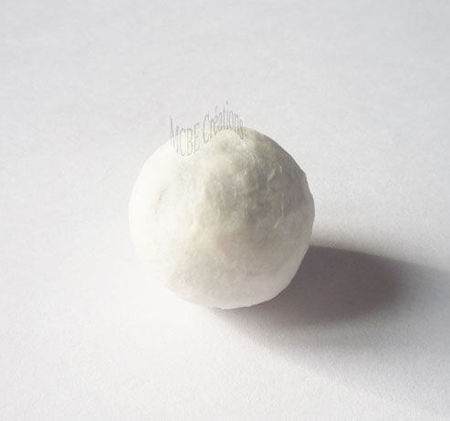 Let it dry. If it is still damp, don't worry, bec ause the bead will not be completely covered and the dampness will evaporate during the baking.
Condition the clay, form a log and put it in the clay gun with a rectangular end piece. You will obtain a long strip (you can also do it without the clay gun).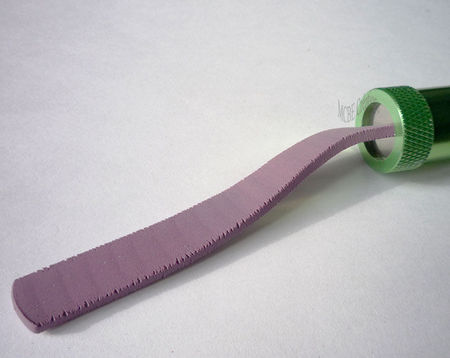 Cut the strip and texture it as you prefer: here I used a piece of net.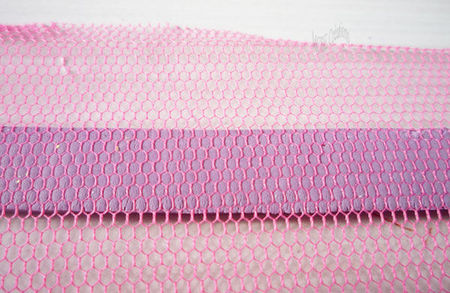 Cut the edges to obtain a 1 cm. strip, for 20 cm length.
Cut 4 strips 3-4 cm long, which more or less corresponds to the perimeter of the paper ball.

In the rest of the clay, cut also 2 rounds 1 cm. diameter (I've used a kemper cut).
Cover the strips with a golden pearl-ex, leaving 5 mm on each side without powder in order to let the strips adhere on the circles.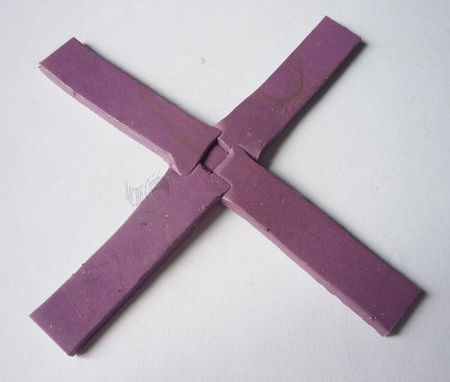 Place the strips to form a cross, with the textured face downwards. Let it adhere without pressing too much.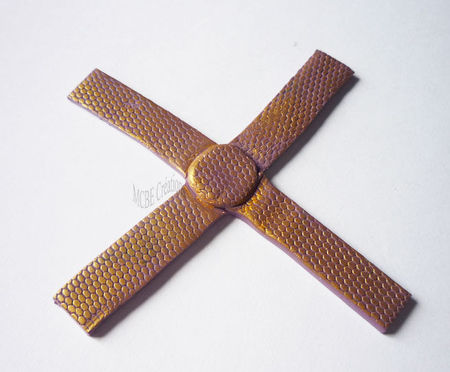 Turn it over ant texture the circle. Put some pearl-ex on it.
Turn it over again and place the paper ball in the middle, and pull up the strips on it. Correct the length of the strips to obtain this: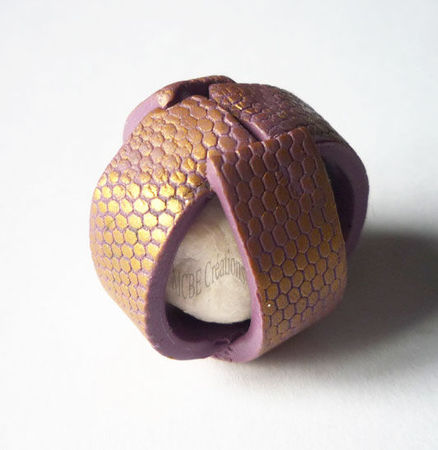 (normally, you would not have pearl-ex on the strips on top, where the circle will be placed)
On top you will dig a little with the help of the head of a pin the middle of the circle to place a little bead, fixing it with some liquid fimo.
(Here I put some pearlex before, but you can put it very well after the cage is mounted)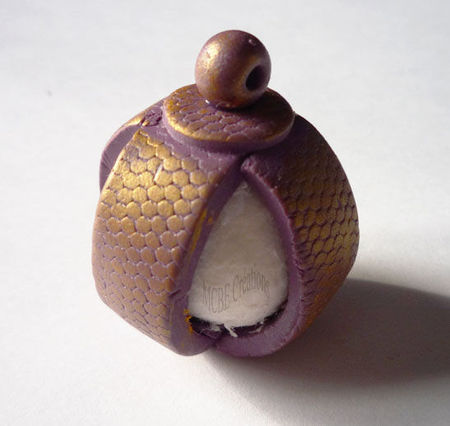 Bake following the instructions.
After baking, plunge it some time in the water, but not too much because the paper is not too much thick.
with a tweezer or a crochet you will take away the paper with delicacy: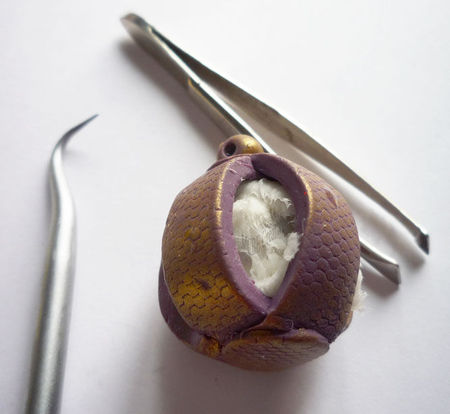 And you have the bead in a cage! You will only have to sand the edges and varnish:


This model is not so refined, because the interior bead is not well-matched to the cage.
Another example :

lundi 24 octobre 2011
This is a recipe for creating a faux jade with polymer clay. Its inventiveness resides in the fact that we can find all the components in France. for the rest, it is a mix and match of other techniques.
You will need:
- some translucent Sculpey clay

- some acrylic inks (here Magic Color blue and earth brown)
- Optional: a little bit of green polymer clay (here some Granitex)
Divide the translucent clay bar into four equal parts, soften it and flatten it.
Leave aside a quarter of translucent clay, and colour the other three with different quantities of acrylic inks, in order to obtain 3 shades of olive green. Let them dry for 15 minutes.
Pass each strip of clay through the pasta machine in order to mix the colours and obtain a homogeneous shade. The Sculpey clay is quite adhesive, so after a while you will need a pause, otherwise it will attach to the pasta machine (see right picture).
You will obtain three logs of shading green and a log of translucent.
You will put them all together, and you will add, if you wish, the little bit of green clay. Twost them together in order to obtain a log roughly marbled. Form a lump.
Stretch the lump in order to detach some portions, repete this operation several times, and gather the detached pieces each time on the lump. With some experience, you will know when to stop this operation.
Here you are, your faux jade clay is ready. You will take the amount you need and
pass it one or two times through the largest setting of the pasta machine.
On the left, you have a sample with Fimo, on the right with Sculpey.
For the cooking: between 110 and 115 °C for 20 minutes. You will have to keep an eye on the cooking. When the colour is the right for you, you will plunge the object into some ice-cold water. Be careful: the clay will still darken when you pull it out from the oven, so do not keep too long into it.
Yves
---------------------------
you will find other recipes in English:

here
here and here

This tutorial with images is an intellectual property of its author.
Please, respect his/her work and do not copy / reproduce / translate it without his/her authorization.



mercredi 10 août 2011
edited on 30 mai 2011
because many people didn't understand the reduction and the cutting of the cane, two pictures have been added to Kelly's tutorial by
You need to make a skinner blend with at least three colours.
Then, you join a white and a dark coloured strip of clay, here a blue one.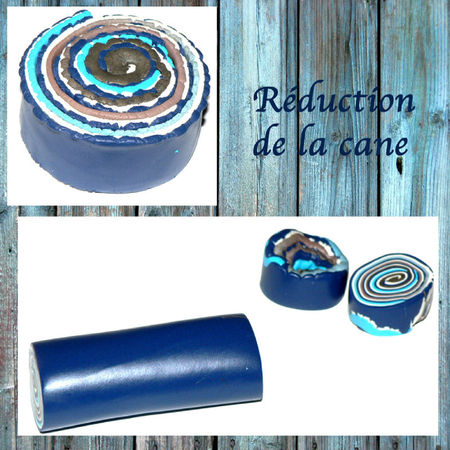 you wrap the strip obtained into a jellyroll cane.
you reduce the cane obtained into a long log and you use a rippled tissue blade to cut slices into the log on the length sense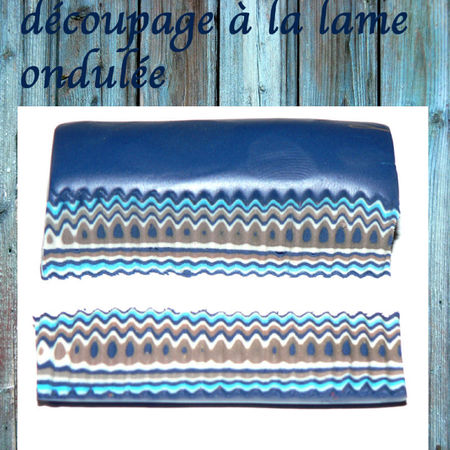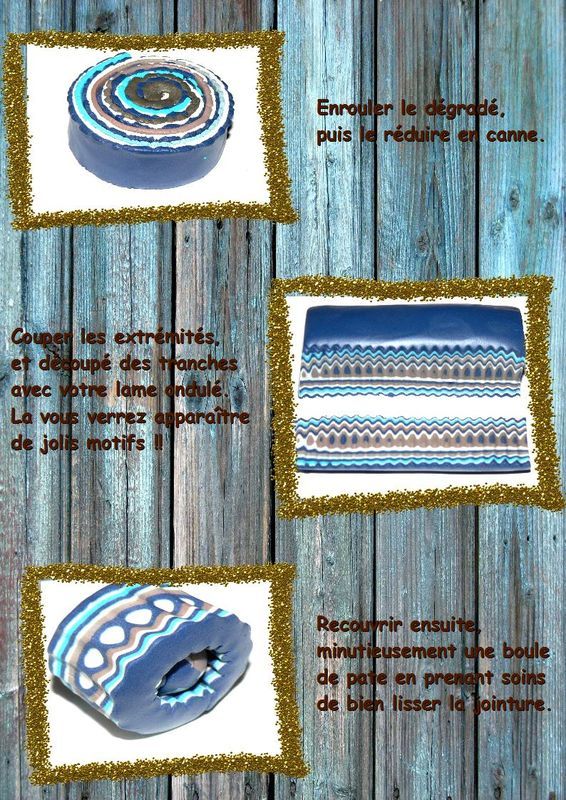 when you cut slices into the log, you see that pretty patterns will appear: you will use these slices to cover a ball of clay, taking care of smoothing very well the joint.
As a final step, you will create the beads you prefer in the shapes you prefer, taking care of not crushing the sides.
This is your turn to play!!!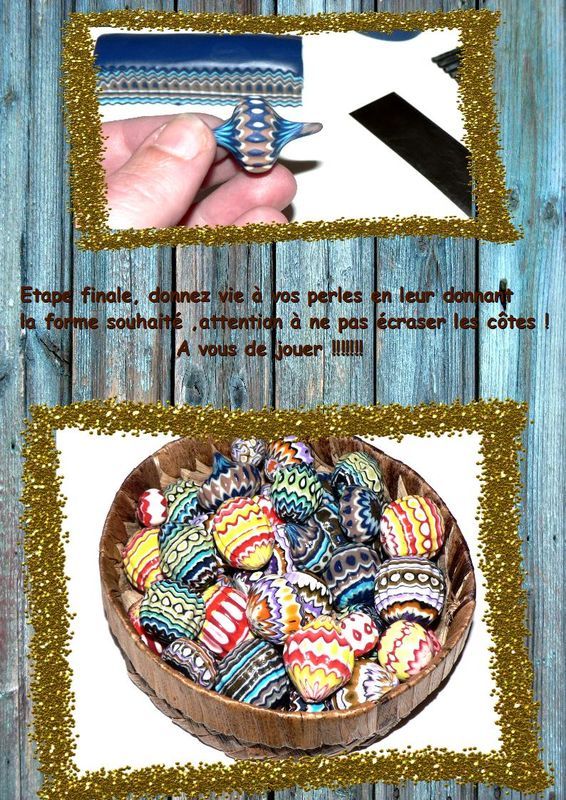 Translated by Maria: chiocciolazzurra@yahoo.it

This tutorial with images is an intellectual property of its author.
Please, respect his/her work and do not copy / reproduce / translate it without his/her authorization.
Version française ici

lundi 16 mai 2011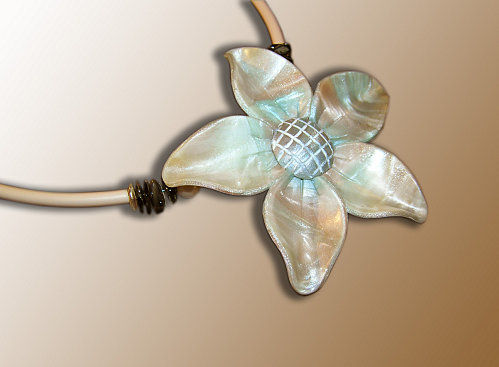 TUTORIAL FOR IMITATING MOTHER-OF-PEARL
I take one part of translucent Fimo for each two of mother-of-pearl Fimo. Your recipe can surely be modified according to your taste. I think that using only mother-of-pearl will obtain as a result too brilliant, too artificial. But, as always, it is only a matter of taste...

I start by conditioning the clays with the pasta machine and I mix the two of them.
Then I choose some mica powders in different colours: here blue, red and mother-of-pearl.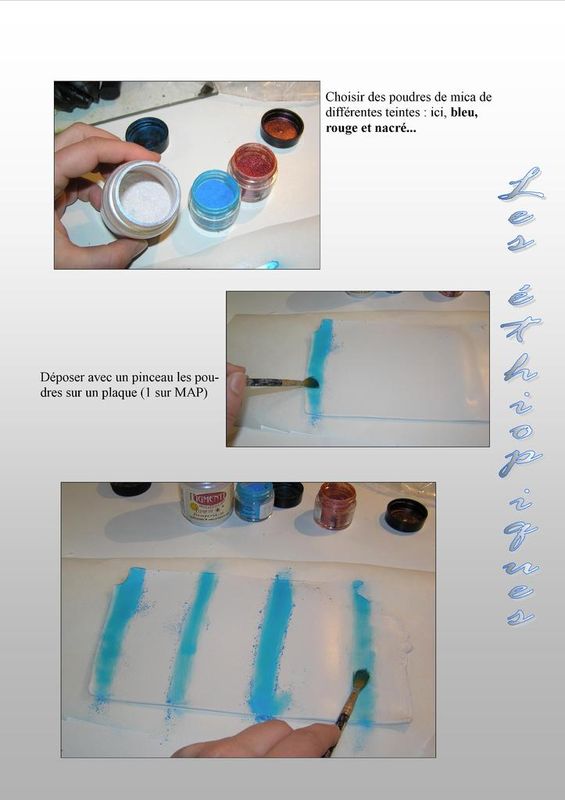 with a brush, I put some mica powder on the mix of clys, passed through the pasta machine set nr. 1.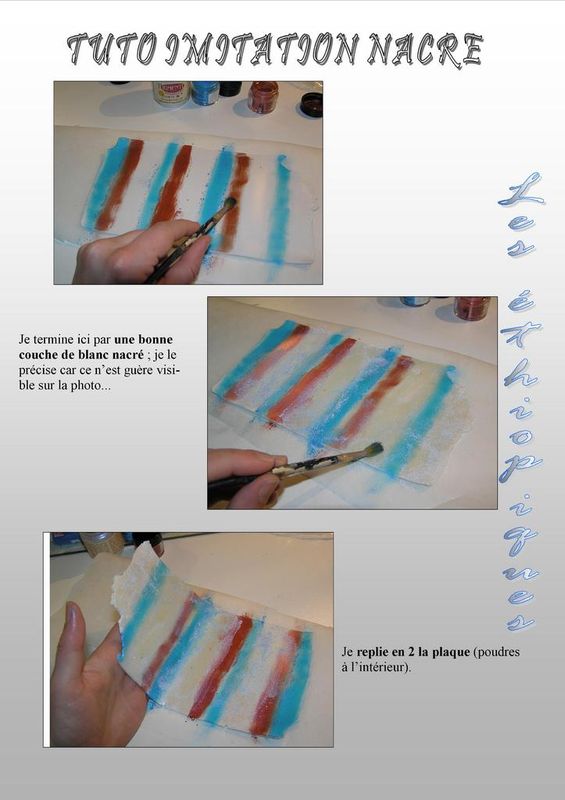 Here, I finish this job with a generous layer of pearly white: I need to point out this because in the picture it is not visible.
Then I fold the sheet in two, with the mica powders on the inside face.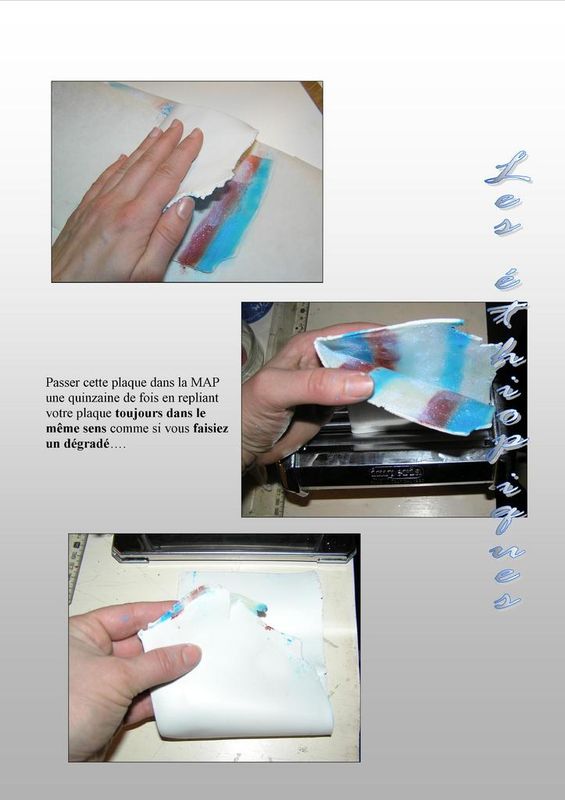 I pass this folded sheet on the pasta machine at least 15 times, re-folding it each time in the same sense, as you do with a skinner blend.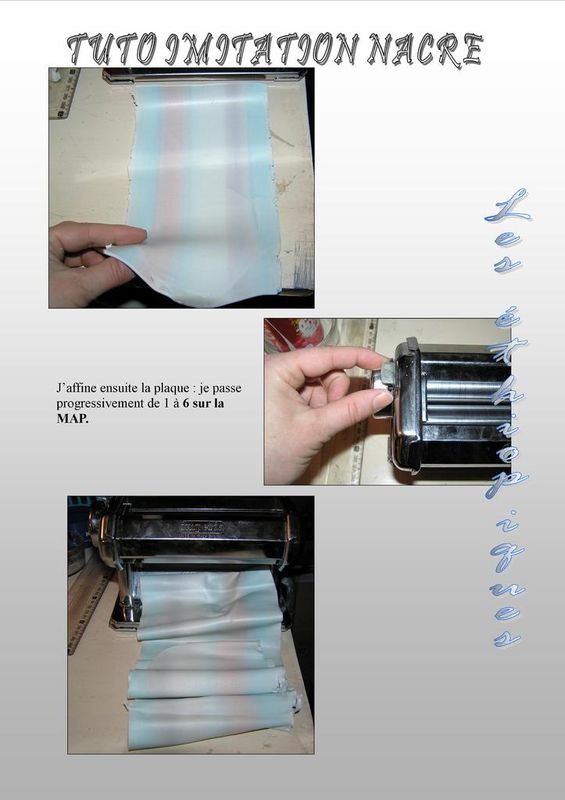 Then I refine the sheet, passing it progressively from nr. 1 to nr. 6 on the pasta machine.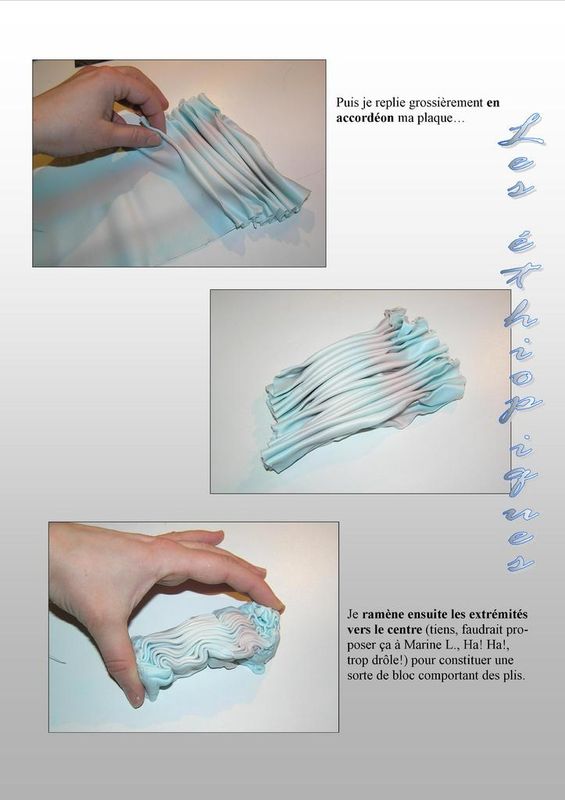 After that, I fold into an accordeon the sheet obtained. I try to reduce this packet of clay toward the center, to constitute a block of clay with some creases.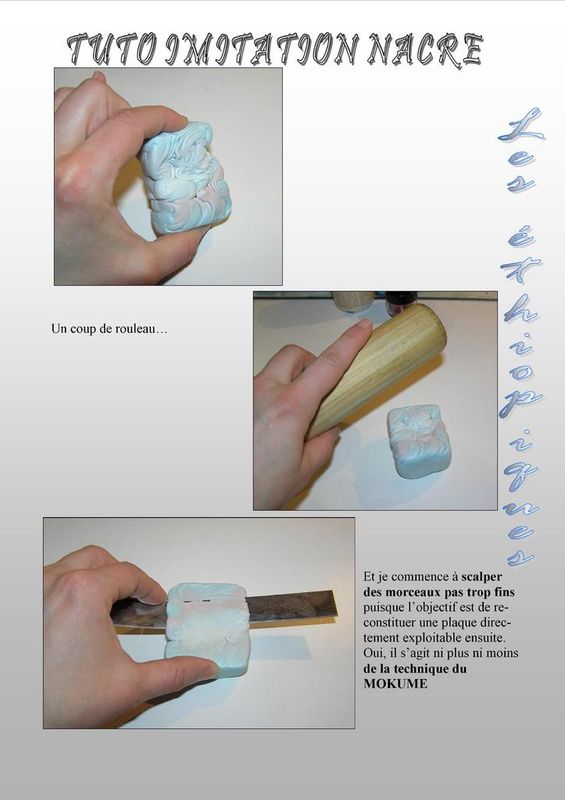 I pass the roller to smooth the stock and then I start to cut layers of clay not too thin: the objective is to reconstitute later a sheet of clay directly workable.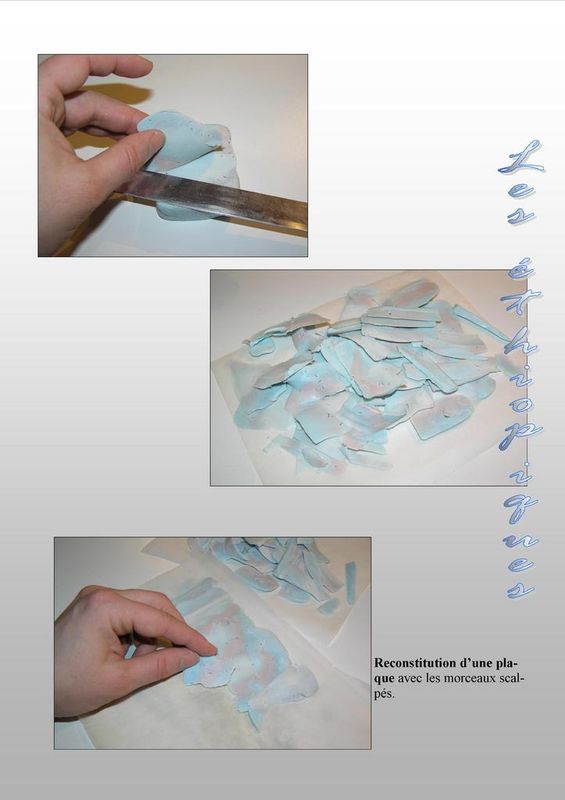 Reconstitute a sheet of clay with the slices you have prepared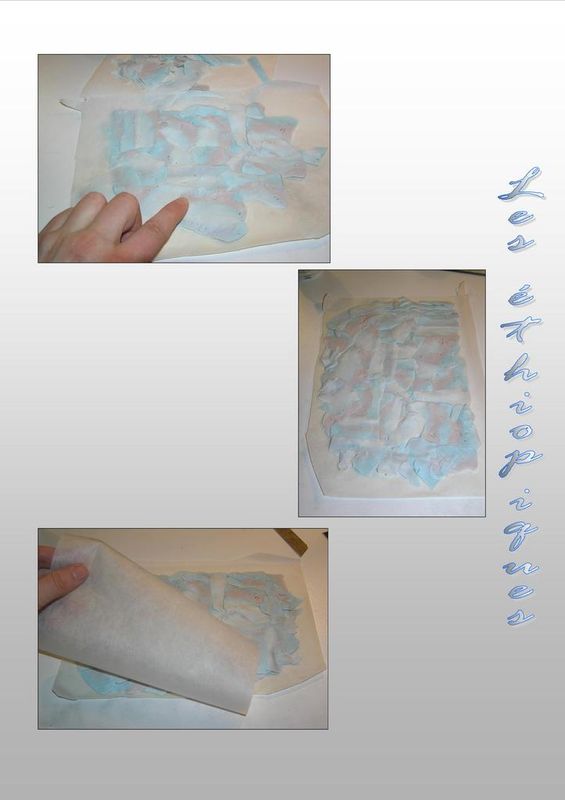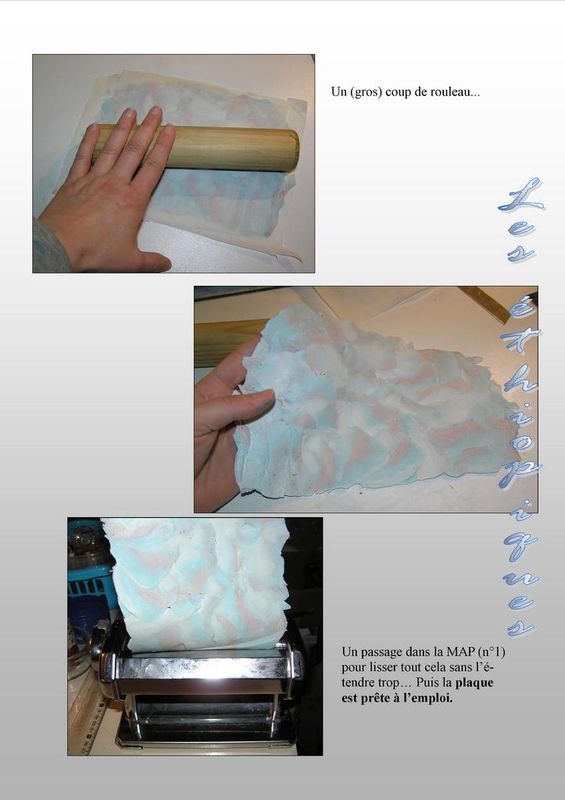 Then you pass the roller very well in order to smooth the sheet, you pass it though the pasta machine nr. 1 without stretching it too much. And now your plate is ready for u se.
My advice: I prefer to sand and polish and not to apply varnish, becaus ethe effect is more realistic. Anyway, if you wish to have more brightness, you can apply, ON THE RAW CLAY NOT COOKED, apply at the last moment a stroke of pearly mica powder. Once passed in the oven, you need to varnish your piece of work made with this technique (it will be more brilliant but less natural, in my opinion).

Cheers! Hélène.
samedi 26 mars 2011
When I hear about whirlwinds, it reminds me always to that Jeanne Moreau song, "le tourbillon de la vie". It is a melody you can sing all day long (and indeed I hope that when you'll click on the link above, you'll be singing a whole week ;-p)

By chance, the first verse speaks about the subject we are interested in: the jewellery.
"Elle avait des bagues à chaque doigt,
Des tas de bracelets autour des poignets,
Et puis elle chantait avec une voix
Qui, sitôt, m'enjôla."
Myriam, very kind of her, has got a tutorial to share with us, to create some almost-mesmerizing beads: this way, she will not be alone anymore in her whirlwind.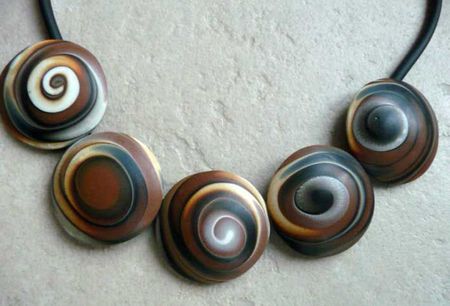 Are you ready? Take you clay-guns!
First of all, roll some sheets of clay in different colours at the thickest setting of the pasta machine (nr. 1 in my case). Generally,I make spiral beads with 5 contrasting colours.

Then, prepare your clay gun with the 7 hole extruder.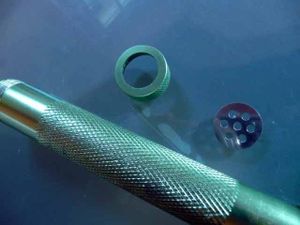 Cut some round pieces with a round shape cutter the same size of the extruder.

Pile up, random or as you prefere, 14 to 16 round pieces.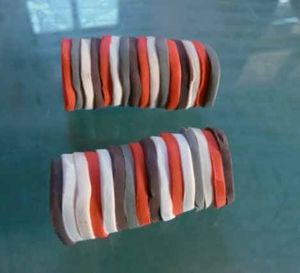 With your hans, smooth and extend a little this stack of round pieces, in order to introduce into the clay gun.
Pay attention: the first colour will be the prevailing one of the spiral bead.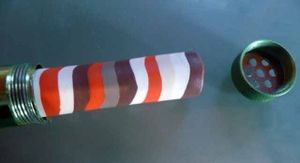 You will obtain 7 threads. Here we have 14 threads: the firft 7 with the orange colour and the other 7 with a prevailing brown.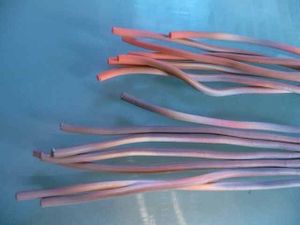 On a sheet of clay from a setting 1, wind the threads you have obtained and press it in order to avoid air bubbles.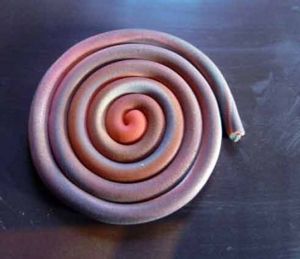 Press delicately with a roller, taking care not to deform the spiral shape.

Pass the sheet with the spiral through the pasta machine, settin nr. 1. The spiral will result slightly deformed.

Pass again the sheet with the spiral through the pasta machine, settin nr. 2, by previously turning it in order to deform it in another direction: so it will regain the original shape.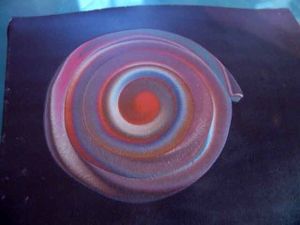 Here the spirals are ready to be cooked on a escargot-dish!
Thank you very much indeed for sharing this with us, Myriam. ;-)!
"On s'est connu, on s'est reconnu,
On s'est perdus de vue, on s'est r'perdus d'vue ..."
ps: to assemble the whirlwind beads you have this trick
Translated by Maria: chiocciolazzurra@yahoo.it
This tutorial with images is an intellectual property of its author.
Please, respect his/her work and do not copy / reproduce / translate it without his/her authorization.
samedi 11 décembre 2010
by Myriam
The following are the explanations to assemble lentil beads without making holes into them. I'd like to thank again Legna for having given to me some piece of information.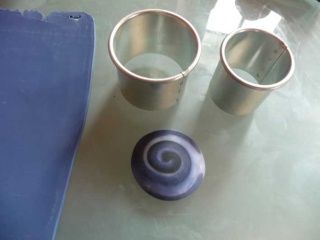 When you have baked and polished your lentils, prepare 2 sheets of clay, the first at the number 2 of the pasta machine, the other at number 3
You make a round shape into the nr 3 sheet, with the round cutter you have used to make lentils
Into the nr 2 sheet, you make a round shape slightly smaller

turn over the lentil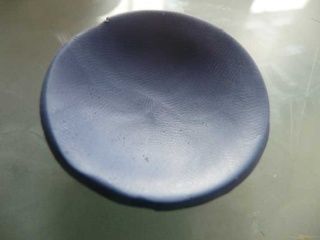 Put the bigger round onto the inside of the lentil and press very well in order to avoid bubbles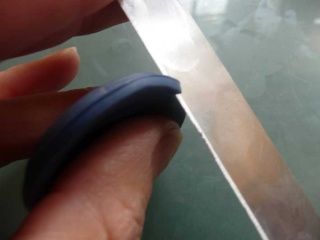 Cut the surplus with a blade and smooth the edges with your fingers


Place a metal rod at 10:10 (or at the middle if you are doing a bracelet)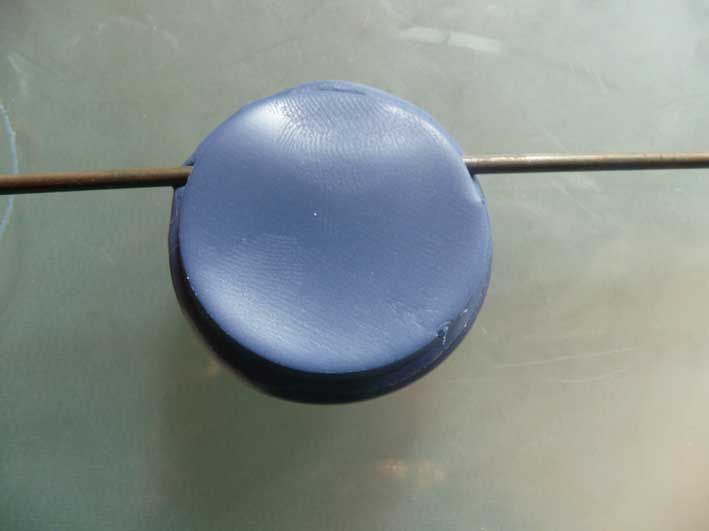 Then cover the rod with the smaller round and press strongly
Cut the surplus and smooth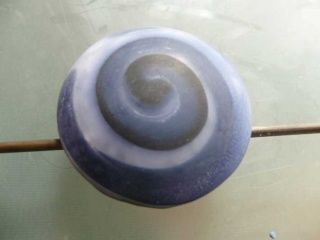 And this is it! You only need to re-bake the lentil with the rod within it.
This tutorial with images is an intellectual property of its author.
Please, respect his/her work and do not copy / reproduce / translate it without his/her authorization.


Translated by Maria: chiocciolazzurra@yahoo.it

samedi 16 octobre 2010
by Moïse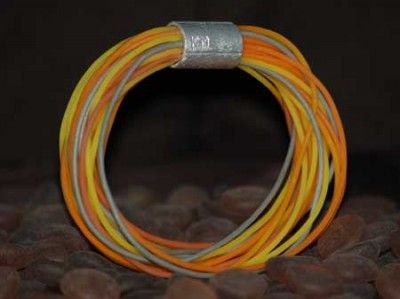 This technique was born by chance: I was crafting a piece of jewelry made of translucent plates and I realized that fimo blocks remain slightly flexible after the cooking. Hence the idea of trying with threads, so I made researches in order to increase both the flexibility and the strength.

This is the fruit of my efforts and researches:
In order to realize colored flexible threads which are practically unbreakable you will need:
Some translucent fimo clay (with or without a color)
Some liquid fimo
Some soft fimo clay in different colors
Some pearl-ex in different colors
Some glittery in different colors
A clay gun and some white paper (for the cooking)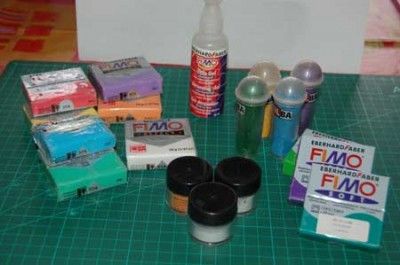 The technique :
There are different ways of proceeding, but the basic ingredient is the translucent fimo clay: the others (liquid fimo, pearl-ex, glitters and fimo soft) are meant only to soften and color it.

Basic technique:
Make some threads with one of the 7 translucent effects fimo clays (you can also mix them in order to obtain other colors) and cook them at the lowest degree suggested. You will already obtain a good result but next technique is definitely better.

Advanced technique:
Take one part of translucent flesh-colored fimo (014), the amount necessary to your needs (you can also use another color).

Pour colorer le transparent on ajoute une petite quantité (maximum 5 %) de pâte soft colorée ou un soupçon de perlex ou bien un peu de poudre pailletée (suivant l'effet désiré, on peut associer les différents ingrédients dans un même mélange ).
In order to color the translucent clay you can add a little bit (max 5%) of colored clay or just a pinch of pearl-ex or some glittery powder (according with the effect you wannt to obtain, you can also mix different ingredients in the same blending)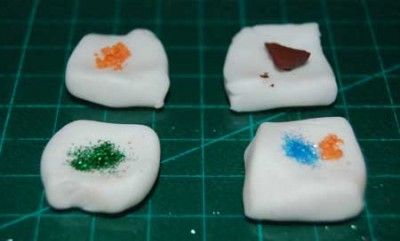 You mix in order to obtain a homogeneous clay (pay attention not to form any bubble):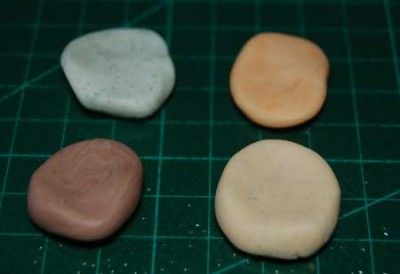 You add to the mix you have obtained a little bit of liquid fimo and you mix again (it will be sticky, as the scrap clay). The liquid fimo will increase the flexibility and the resistance:




You put the clay you have obtained into the extruder, and you will make some spaghetti threads (you can use different diameters and different shapes, but you need to know that the thicker the thread the less flexxible will be the result, and viceversa):




Once the spaghettis are done, you will bake them: you put them onto a white sheet, being careful not to superpose them. You can also use an accordion sheet as in the picture:


For the baking: you start with a cold oven and you gradually arrive to 110°. Then you keep the oven at 110° for 30 minutes. When you put out the threads of the oven you plunge them into the cold water: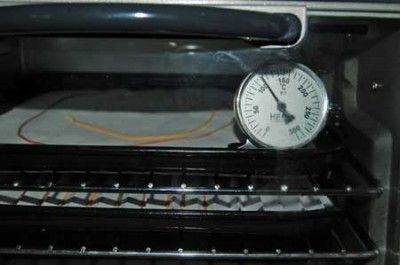 This is it: after the baking, you must be able to make a knot with the threads:




If, after the baking, your threads are breaking:
Either you haven't respected the baking mode
Or you have put too much colouring devices into your clay at the beginning (fimo soft, glitters, pearl-ex)
Or you have put too much liquid fimo
Or you have left air bubbles in the mix
I hope this tutorial will help you and will guide you towards new creative horizons.
Have a nice work and havefun!
This tutorial with images is an intellectual property of its author.
Please, respect his/her work and do not copy / reproduce / translate it without his/her authorization.


Translated by Maria: chiocciolazzurra@yahoo.it

dimanche 10 janvier 2010
The association LezArt'giL organizes meetings with different subjects, during which the brainstorming is obligatory.
During these meetings, some of the participants show all of their talent and ingeniousness. One of these is Nathalie, who, not happy with creations which are simply original, is always trying to explore new techniques. Until now, only a few lucky ones could discover her creations, because she doesn't have a blog. But we are on our way to convince her to open one!
About the extruder, she has delivered us this tutorial, whose originality resides on thr shifted purpose of one of the tools. But read it.
To make these beads we are going to use a Makin's extruder and its tool which allows to make tube beads (with the 1 mm hole, the tiniest). You know, the one you bought in a compulsive mood, you tried once without really understanding how to use it and finally putting it in a box and forgetting it: so, go to find it!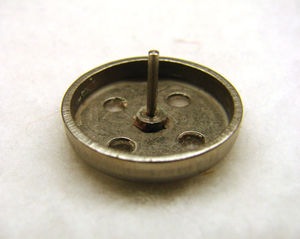 associated to the hexagonal disc (the square one is the easiest to use, but hexagonal is more original)
It is possible to use different discs (squared, diamond shaped, octagonal...), but you need that these discs are always big enough to cover the 4 small holes of the tube tool, otherwise they will be useless.
Planning of the clay roll to be inserted in the extruder
The easiest way is to roll some sheets of clay in different colours and thicknesses
to cut directly into them with the extruder several discs of the same size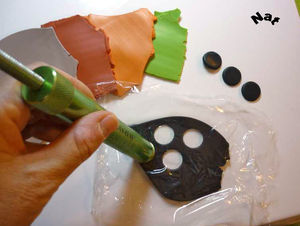 and to stack them in order to set up a cylinder, trying to juxtapose contrasting colours.
several versions are possible, you can also use, to fill the extruder, a cible cane or a blended can, the effects will be very nice.
Slip the cylinder into the extruder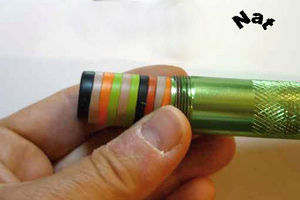 Insert the tube bead tool
Place the hexagonal disc
and screw the tightening cap.
Now you need to extrude the clay. at the beginning, it can split into four, bot after some mm it will be ok. Keep on extruding until you have used all the clay in the gun.
Cut the log you obtain into 7 equal parts.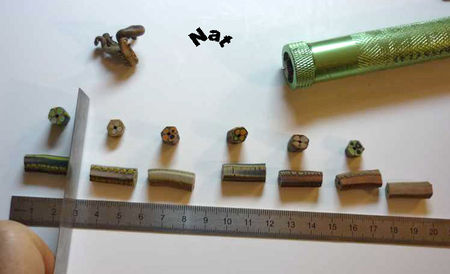 Assemble the 7 parts into a hexagonal rose. Turn the parts in order to tastefully associate the colours. Be careful to make the parts stick together on all the length.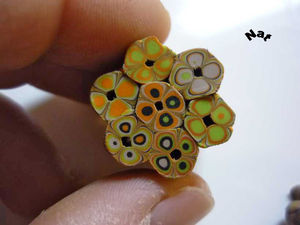 Prepare some core beads made of scrap clay. Cut thin slices from the cane and put them around the core of the bead to entirely cover it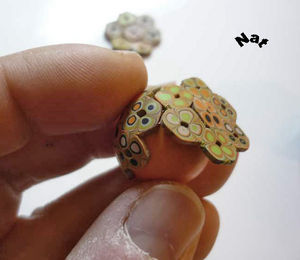 .
Take care not to make the slices overlap. At the end, you can use some tiny clay scrap to fill the gaps.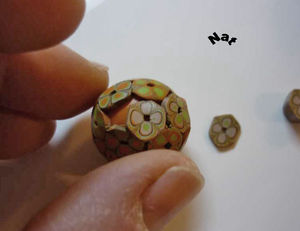 Smooth the bead very carefully to make the boundaries and the small holes at the center of the flowers disappear, and voilà!, you're done!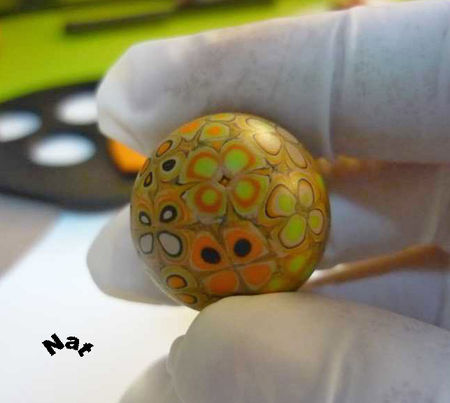 This bead has found som pals and find now its place around a wrist.
Another example, where the slices of cane, realised with a square disc, have been put on a plat obtaining an effect very Klimt-style.
Other plates realised in a necklace not really accomplished...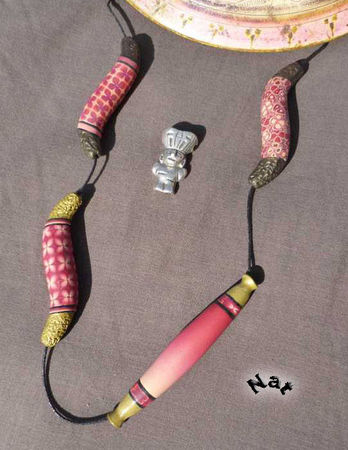 You've got it, this technique can be declined into endless shapes, using different discs of the extruder or changing the colours and the combinations of the cane.
This tutorial with images is an intellectual property of its author.
Please, respect his/her work and do not copy / reproduce / translate it without his/her authorization.


Translated by Maria: chiocciolazzurra@yahoo.it
dimanche 23 août 2009
pour celles qui s'étonnent de voir des leçons en anglais,
ce sont tout simplement des traductions faites avec talent et gentillesse par Maria
à la demande de lecteurs et lectrices non francophones
de leçons déja parues sur ce blog en français bien sûr,


ce
petit service de traduction existe depuis janvier 2006, pour voir la
liste complète, il suffit de cliquer sur le bouton "translation"

samedi 22 août 2009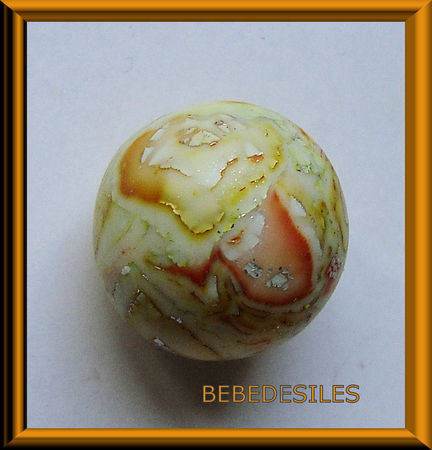 here it is the bebedesiles version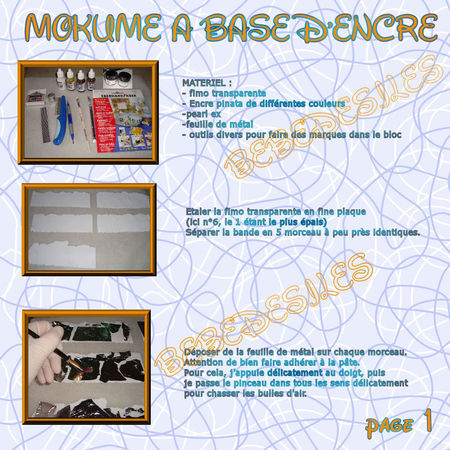 Page 1: Materials: translucent fimo, Pinata inks in different colours, pearl-ex, metal foils, different tools to make marks in the log of clay. Roll the translucent clay through the pasta machine in a very thin layer (here at setting nr. 6, nr.1 being the largest one). Cut the sheet into 5 stripes more or less equals. Lay down the metal foil on each stripe. Take care of letting it adhere very well to the clay. To do this, I gently press with my finger, then I pass the brush in all directions to remove all air bubbles.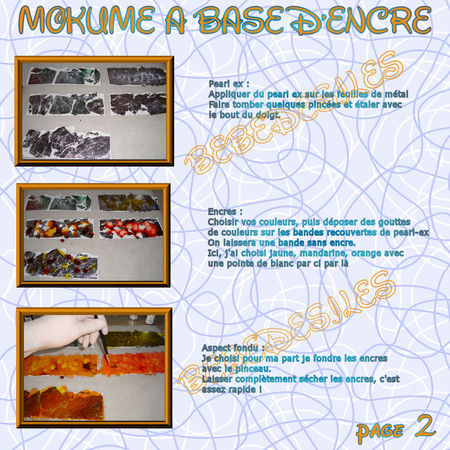 Page 2: Pearl-ex: apply some pearl-ex on the metal foils. Let some dashes fall down, then spread it gently with your finger. Inks: Choose your colours, then lay down some drops on the clay covered by the foils. Leave one of the stripes without ink. Here I chose yellow, mandarin, orange, with a dash of white here and there. The melt out appearance: I choose to melt the inks with a brush. Let them dry completely, it is quite fast.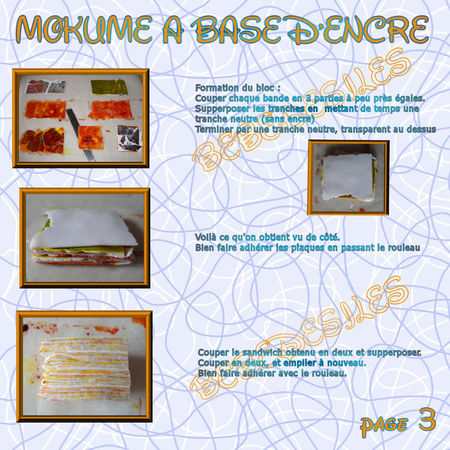 Page 3: Shaping of the log: cut each stripe into three parts more or less equals. Stack the slices, putting every now and then a slice without ink. Finish the stack with a slice without ink, with the translucent on the top. Let the slices adhere very well, by passing a brayer. Cut the log you obtain and stack the two pieces. Repete this step again and let the pieces adhere well using the brayer.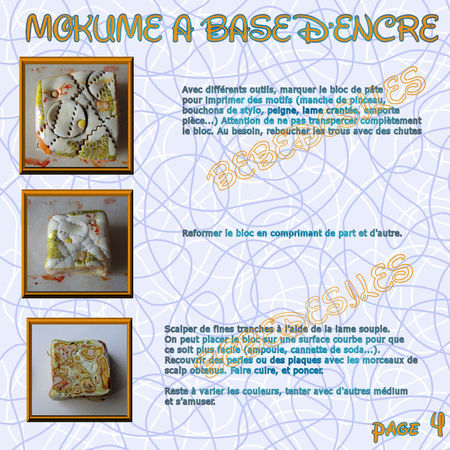 Page 4: with different tools (paintbrush handles, pen caps, comb, waved blade, cutting tools...), mark the log to print some patterns into the clay. Take care not to completely go through the log. If needed, fill up the holes with some leftover clay. Re-shape the log by pressing it on each side. Scalp some thin slices with a cutting blade. You can put the log on a curved area (a light bulb, a soda can...) to make this easier. Cover some clay beads or plates with the slices obtained. Bake and polish them as usual. You can vary the colour, try with others media and have fun with this technique!


This tutorial with images is an intellectual property of its author.
Please, respect his/her work and do not copy / reproduce / translate it without his/her authorization.


Translated by Maria: chiocciolazzurra@yahoo.it