When I hear about whirlwinds, it reminds me always to that Jeanne Moreau song, "le tourbillon de la vie". It is a melody you can sing all day long (and indeed I hope that when you'll click on the link above, you'll be singing a whole week ;-p)

By chance, the first verse speaks about the subject we are interested in: the jewellery.
"Elle avait des bagues à chaque doigt,
Des tas de bracelets autour des poignets,
Et puis elle chantait avec une voix
Qui, sitôt, m'enjôla."
Myriam, very kind of her, has got a tutorial to share with us, to create some almost-mesmerizing beads: this way, she will not be alone anymore in her whirlwind.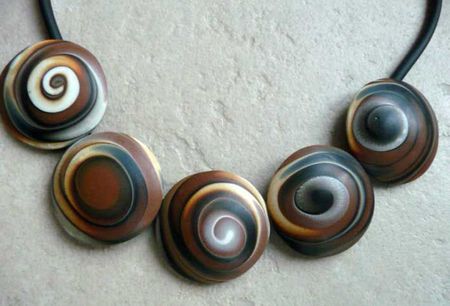 Are you ready? Take you clay-guns!
First of all, roll some sheets of clay in different colours at the thickest setting of the pasta machine (nr. 1 in my case). Generally,I make spiral beads with 5 contrasting colours.

Then, prepare your clay gun with the 7 hole extruder.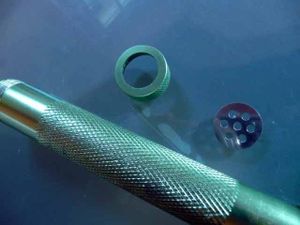 Cut some round pieces with a round shape cutter the same size of the extruder.

Pile up, random or as you prefere, 14 to 16 round pieces.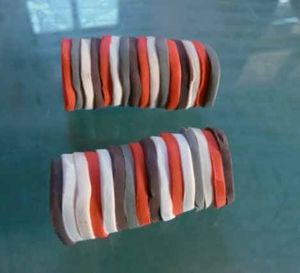 With your hans, smooth and extend a little this stack of round pieces, in order to introduce into the clay gun.
Pay attention: the first colour will be the prevailing one of the spiral bead.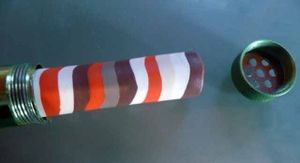 You will obtain 7 threads. Here we have 14 threads: the firft 7 with the orange colour and the other 7 with a prevailing brown.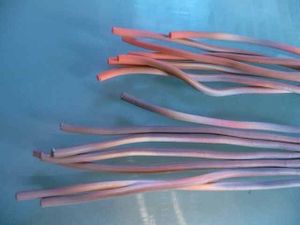 On a sheet of clay from a setting 1, wind the threads you have obtained and press it in order to avoid air bubbles.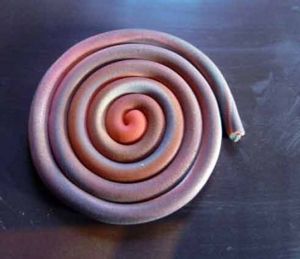 Press delicately with a roller, taking care not to deform the spiral shape.

Pass the sheet with the spiral through the pasta machine, settin nr. 1. The spiral will result slightly deformed.

Pass again the sheet with the spiral through the pasta machine, settin nr. 2, by previously turning it in order to deform it in another direction: so it will regain the original shape.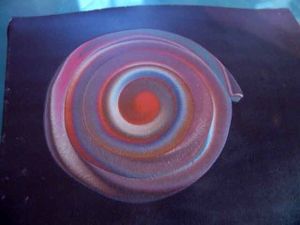 Here the spirals are ready to be cooked on a escargot-dish!
Thank you very much indeed for sharing this with us, Myriam. ;-)!
"On s'est connu, on s'est reconnu,
On s'est perdus de vue, on s'est r'perdus d'vue ..."
ps: to assemble the whirlwind beads you have this trick
Translated by Maria: chiocciolazzurra@yahoo.it
This tutorial with images is an intellectual property of its author.
Please, respect his/her work and do not copy / reproduce / translate it without his/her authorization.