Here's the original Interview of Laurie Mika, translated in French in a next message :
I grew up always painting and drawing. I was the Queen of Doodling! I only took one art class in high school but when I went to college I studied art and loved all of the painting classes I took. After graduating from college, I worked in an art gallery for quite a few years. During this time period I continued to paint canvases.
My first introduction to polymer clay was taking a caning/milifiori class about 18 years ago. I had seen some incredible jewelry made from polymer clay canes and I wanted to know how it was done. After taking that first class, I never made another cane! What initially drew me to polymer clay was that the canes that I had first seen looked like little quilt squares and at the time I was doing large canvas paintings that were quilt-like. These paintings were very contemporary looking with pieces of washed, painted canvas cut up into little squares that were then sewn onto a larger canvas. Then I started experimenting with painting on fabric and soon I was doing a line of clothing and found that buttons made out of polymer clay were perfect as they could be washed and I could paint the buttons to match the fabric.

What I do now is part of the evolution that started with those little painted buttons! I made some of the buttons into square shapes and thought they made beautiful tiles. I first used the hand painted tiles to embellish boxes. Next I experimented with placing the tiles on a flat piece of wood and even grouted the piece. I liked the look and I still have that very first mosaic. Even though that first mosaic looks pretty basic, it still retains all of the essential elements that exist in the work I am doing today! It really was through a process of trial and error, seeing what worked, experimenting and playing that led me to create what I am doing now, my mixed media mosaics.

About six years ago I walked into a rubber stamp store and bought my first official rubber stamp. Buying that rubber stamp was my entry into an entirely new world of mixed media and altered arts. This was a world that I didn't know existed. The year was 2003. Up until this point, my artistic career was very localized. I participated in local art shows and had my work in a few galleries and had a website. That was it. Not long after I began using stamps in my work, I made a few great connections with a group of artists who are all involved in teaching at art retreats. These retreats are incredible because it is a group, with as many as 600 like-minded people, who gather together to create art in a wonderful and supportive environment. The workshops are fabulous. I usually try to take a workshop when I am finished teaching…it is my treat to myself. I have learned many wonderful techniques that I have incorporated into my own work. It was actually someone in one of my workshops that recommended me to my editor at North Light Books. They contacted me and the next thing I know, I am writing a book!! It was a great experience and I am ready to do it again!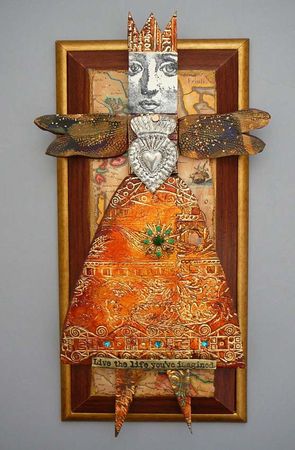 There are many things that inspire me and influence my work. One of the biggest influences is that of Medieval and Early Renaissance art. I love the flat, gold devotional panels and the richly embellished surfaces. I especially love the antique reliquaries and illuminated manuscripts. Most of the pieces that I do are either icons or shrines but they are not necessarily devotional! Another source of inspiration is Mexican folk art and living so close to the border in San Diego, I have been able to visit there often. When I travel, I am always looking for "treasures" to put into my work and have found that polymer clay is perfect medium for embedding objects. Because of this, my artwork has taken on a narrative quality in which each piece tells a story.

I love the versatility of polymer clay and am always striving to push the clay to the limit. I love altering the raw clay surface and experimenting with surface effects. I am hooked on gold leaf at the moment! I do think that my approach to clay is a bit different than most people because I don't really care about the color of the clay for design purposes, I am more interested in changing the surface of the clay by painting on top of it.

Currently I am juggling a lot of balls! After a nice relaxing summer, I am back to work full time. I have actually been in my studio again; I love it when I have time to just "play". I will begin traveling in two weeks, teaching in Colorado, Wisconsin, then Baltimore and early next year I am off to Australia to teach. (yippee!) However, these days I do feel the pressure from trying to keep up with it all. I often get frustrated by the lack of time that I have to actually create art. There are always proposals to work on, shows to get ready for, and opportunities to search out. But I do love what I am doing and I wouldn't trade it for anything, especially the chance to travel overseas and meet wonderful people! (like you!)
Thank you again Laurie ! Chifonie