Ceramics effect
Materials
liquid Kato clay
liquid Fimo clay
Sculpey TLS
white Fimo classic
white Kato Clay
+ customary materials such as: cutting blades, toothpicks etc…
Pinata inks, or Sennelier, Pébéo…
clay gun
Liquid Kato Clay is more transparent than the other two brands. I made some tests with all of them and the winner is Kato. Nonetheless, it is possible to practice this tutorial with the other two, too.
first step
First of all, you need to select the colours you are working with. Pour some liquid clay into a little bowl or similar...
Put one or two drops of ink on the liquid clay and let the alcohol evaporate before mixing the colour with a sharp-pointed stick or a tooth pick.
The evaporation step is not compulsory: you're going to get an interesting effect of bubbles into the liquid clay if you do not mix it.
Here I do not mix it completely, in order to obtain a blending effect. Leave it aside.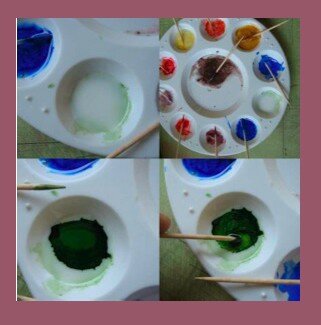 second step
With your clay gun make some spaghettis with the white clay, which you're going to roll around some core beads, here I use wooden beads.
You can also choose clay beads of course.
Put the beads on toothpicks.

You take again the colour you have prepared. Apply the mix of ink and liquid clay onto the beads, in order to cover all of them.
Take care of draining out, do not put too much of it. The liquid clay will fix in the pods and will fix the colour pigments.

Place your beads on a structure suitable to your oven. Let them harden in a pre-heated oven for 20 minutes at 120 degrees.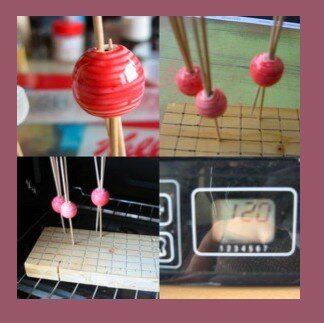 o not sandpaper the beads, a matte finish is suitable. If you use wooden beads, do not put them in iced water otherwise the clay will break up. On the contrary, if your core beads is made of clay, you can throw them in iced water right away. For this tutorial I used wooden beads, thus no water.
Just a tip for wooden beads: they're raw, so pass them in the oven for 30 minutes at 160° in order to dry the moisture: they will give forth a strong wooden smell, it's normal cause they are moist. You will have to air out the room.
Apply a first layer of varnish, really thin, let it dry for half an hour and repeat the operation with a thicker layer. For a remarkable effect, you can wait 24 hours and then apply again a layer of varnish.

This principle can apply to any kind of shapes, always working with white and liquid clay. The principle is that the beads go into the oven only one time.
by FATI -lempicka
to discover her creations just go ici
two more ways of imitating ceramics
in English (click on the images)
translated by Maria
This tutorial with images is an intellectual property of its author.
Please, respect his/her work and do not copy / reproduce / translate it without his/her authorization.